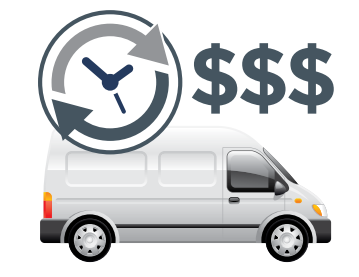 How Vehicle Tracking Helps
With so many vehicles, it's a no brainer that company vehicle tracking would need to help record maintenance. Having multiple vehicles can make it difficult to know when each vehicle needs an oil change, their tires rotated, or to schedule a repair. Being able to get alerts when maintenance is due for each vehicle can help fleet owners get ahead of the curve. Additionally, with SmartScout Elite, diagnostic trouble codes (DTC) are available right in the system and to get alerts for.
Utilizing company vehicle tracking can lower insurance rates. Being able to give insurance companies evidence of a vehicles location in tracking data not only helps fleet managers, but also the insurance companies. If a vehicle is involved in an accident, the insurance company can have real data to support or deny claims. With the addition of GPS tracking data is also the introduction of dash cameras. Not only can insurance companies receive the tracking data but having dash cams give them the visual element to paint the entire picture of what occurred.
As well as eliminating the cost of replacing stolen vehicles, business owners can also utilize company vehicle tracking to manage vehicle maintenance. Having an efficient and easy-to-use way to manage oil changes, tire rotations, and fluid changes, can help keep vehicles running longer. This allows business owners to extend vehicle life, while also determining when the best time to replace a vehicle is.
In addition to GPS tracking, dash cameras are also taking over the vehicle fleet world. With dash cameras working hand in hand with GPS, users can see the real-time tracking data as well as video evidence for events. This helps business' dispute false insurance claims and protect their drivers.
Eliminating wasteful costs on fuel and preventing vehicle theft can help any business grow and thrive. From one small business to another, Smart Fleet is here to assist any GPS and/or dash cam user get the most of their system.